In this post I'll be sharing four key fashion trends that New York-based firm Fashion Snoops is highlighting in their Men's fall 2018/winter 2019 fashion trend forecast. These trends are born out of the following four cultural macro trends: 
Though Space and Time – about escapism, unknown worlds, and virtual reality
Human Nature – about being off the grid, biotech, and eco-tourism
Emotional Capacity – focus on spiritual practices, mindfulness, fragility and fear
Identity – includes the gender blur, personalization, and modern relationships
Please note that this blog post is adapted from Fashion Snoops, is protected by international copyright laws, and may not be republished without permission. Students, please feel free to use this information for school projects as long as it's not reproduced or republished online and you properly cite both Fashion Snoops and Fashion Trend Guide as sources. 
1. Portal
Portal is a focus on heritage mills with a collision of eras and the United Kingdom as inspiration. It's travel through space and time to another generation. There is directional knitting with a tailored and easy silhouette. Updated plaids and pieced wovens are key. Portal takes the Scottish countryside or the East End of London as inspiration. It's about the relaxation of formality with tweedy layers and regal trims. 

Key words to describe Portal are: ancestral, tweedy, fearless combinations, Scottish romance, and heritage mills.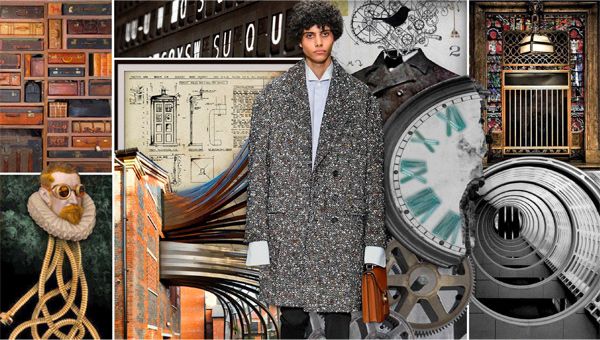 The color palette for Portal includes historic neutrals and oil-on-canvas hues with a time-worn patina. 
Materials are tactile: bouclé tweed, chunky corduroy, burnout velvet, blanket flannels, extreme marl, and yarn-dyed twill.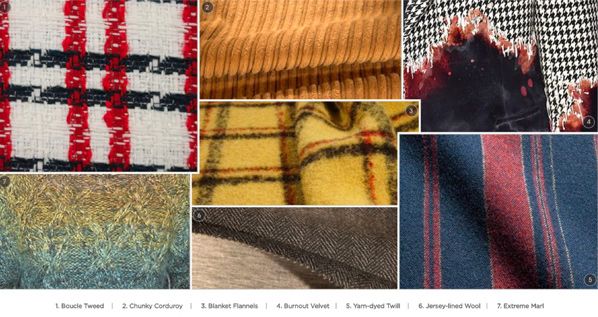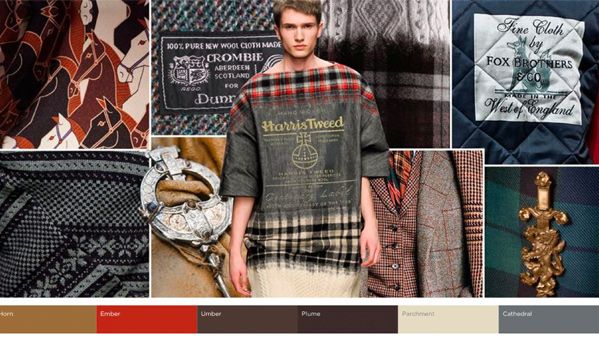 Design details include heritage logos, ruffle plackets and piping, lining embellishment, self-belts, and pieced shirtings.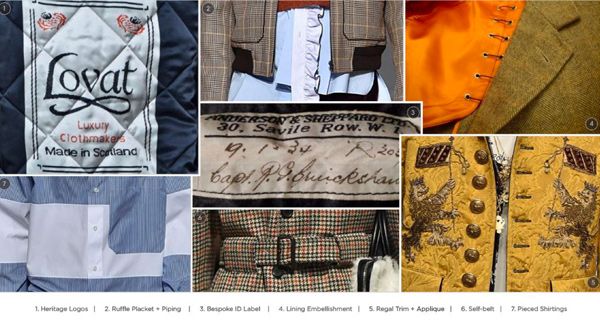 Must-haves are the Westminster coat, mill sweater, Viceroy suit, regal sweatshirt, driving cap, bold readers, monk strap shoes, loafers, and briefcases.

See examples of Portal:

2. Aether
The Aether trend story focuses on outdoor heritage brands, cozy tech, heavyweight flannels, old-school logos, performance tailoring, and rugged casual bottoms. It's about smarter fabric blends and all shades of green. Iceland serves as the setting. 

Key words to characterize the trend include: unreal colors, recycled, lush terrain, infinite energy, and eco-scientist. 
Colors for Aether are lush and energetic with organic beauty. 
Materials are recycled fleece, metallic mesh, tech flannel, smart down, and waterproof knits. Flex fit and stretch are both key.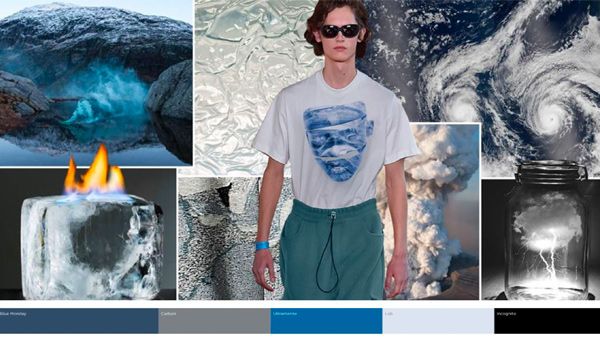 Design details are lacing overlays, tech pockets, logo panels, cozy collars with patterns, and adventure patches. 
Must-have items are: the trail coat, lodge sweater, tech suit, lab flannel shirt, clean cargo pants, the quest knit, blanket scarf, nylon belt, runners, rucksack, and sport watch.

Browse examples of Aether:

3. Sohei Order
Sohei Order is about the zen of tailored clothing, imperfect perfection, underground retail, Asian cultures, traditional uniforms, and asymmetric silhouettes. There is a focus on Japan, as well as on convertible styling.

Sōheis were warrior monks in feudal and Medieval Japan. Today, they represent the man who is always on the move and full of silent energy – a dark superhero on the search of self-enlightenment. This guy finds sanctuary and spirit through perfected design.

Key words for this story are: simple complexity, dark zen, silent energy, warrior monk, Tokyo nights, and bringer of light.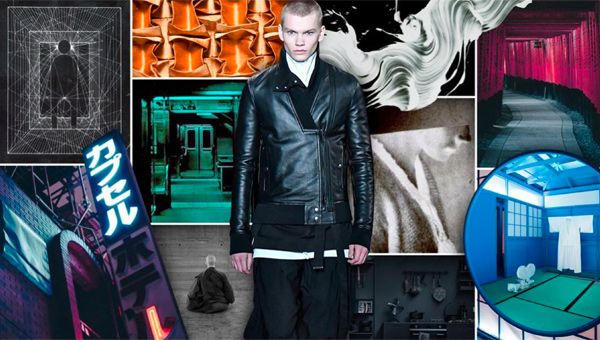 Colors for this trend story echo the dramatic shadows and neon brights of Tokyo. They are subtle but impactful. "Catalyst" is a notable blackish green color.
Materials move with you and include: bubble nylon, flexible leather, noisy weaves, flocked flannel, and heavyweight jersey.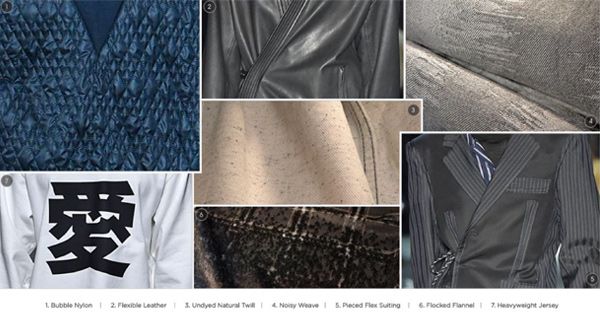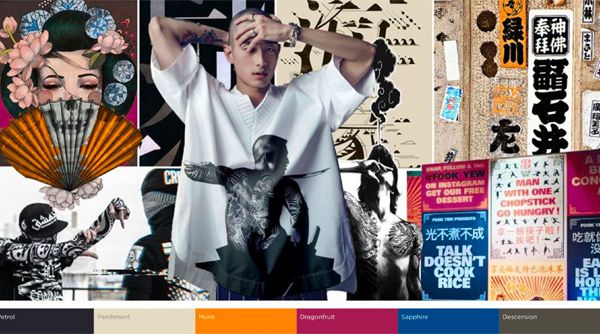 Design details are: kimono utility, diagonal pockets, leather braiding, convertible cuffs, and warrior patches.

Must-have items are: warrior pants, the dojo sweatshirt, flex suits, the dark zen sweater, ringed belts, leather bracelets, sneaker boots, and the body pack.

See examples of Sohei Order:


4. Assemblage
Assemblage is a light-hearted theme that highlights the "Gucci effect" with crafted surfaces, a focus on fabrics, and protest through art. It includes experimental knits, conversational details, super furry outerwear, dip dye + bleaching, pieced construction, and ultra-relaxed silhouettes. There's an undercurrent of grunge, positive protest, and crafty streetwear. 

Key words for Assemblage include: lost traditions, new disruptors, open source design, awake(n), creative rebel, and you-nique.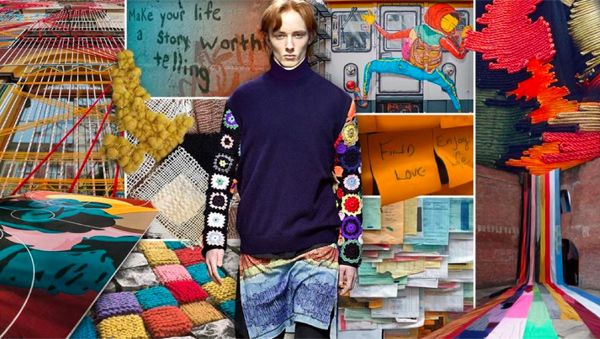 The color palette is sweet, with lots of pink and neutrals. 
Materials are crocheted knits, hairy woolens, bleached-out jersey, recycled scraps, tweed growths, and braided cable knit.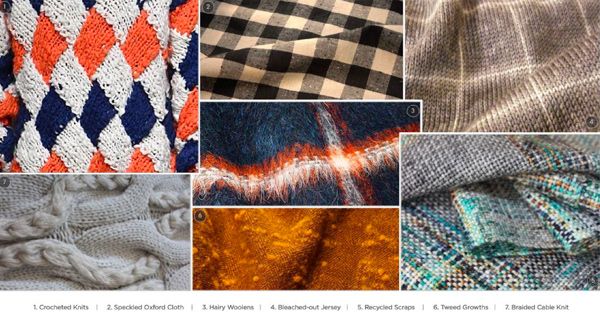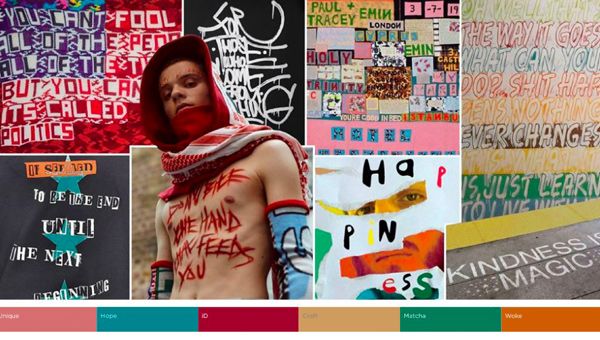 Design details include: happy blooms appliqué, crochet pockets, needlepoint patches, sweater sleeves, yarn fringe, and the cozy collar.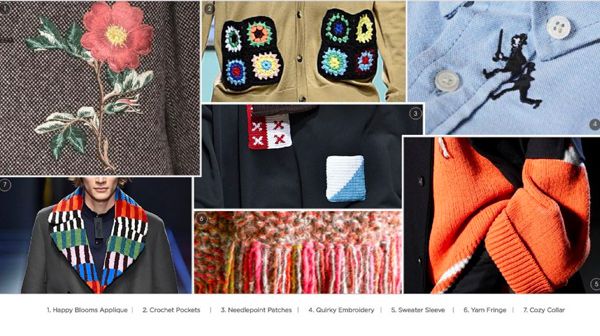 Must-haves are: the thrift coat, street dandy suit, craft sweater, scarf shirt, reclaimed sweatshirt, textured belts, the short scarf, vintage runners, the beanie, and shirt pins.

Browse examples of Assemblage:


This post contains affiliate links and I may be compensated if purchases are made by clicking links.

Follow along on social media @thekeytochic for more trend reports, retail updates, and fashion inspiration. 

See these other fashion forecasts on my blogs:




Four women's denim trends for 2020.


Four men's fall 2019 winter 2020 trends.


Four women's trends for spring summer 2020


Four men's spring summer 2019 trends


Four fashion trends for fall 2019 and winter 2020 (Women's) on The Key To Chic.

Women's fall 2018/winter 2019 fashion trend forecast (macro trends)


Women's fall 2018/winter 2019 trend forecast (four key themes)

Women's spring summer 2019 fashion trend forecast
See more examples of these Men's trends: